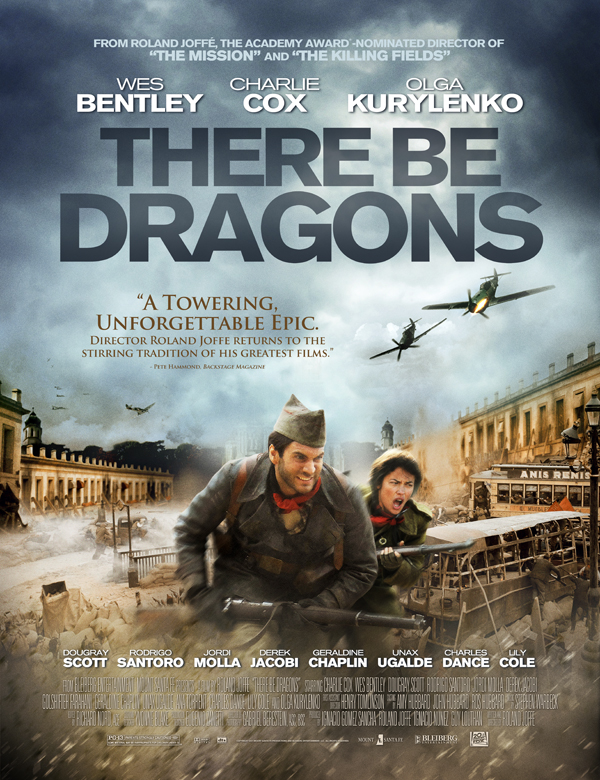 Title: There Be Dragons
Genre: Action/Adventure, Drama
Year: 2011
Cast: Charlie Cox, Wes Bentley, Olga Kurylenko, Rodrigo Santoro, Dougray Scott, Charles Dance, Derek Jacobi, Jordi Molla, Unax Ugalde, Lily Cole, Geraldine Chaplin
Directed by: Roland Joffe
Written by: Roland Joffe
Produced by: Ignacio Gomez-Sancha, Roland Joffe, Guy J. Louthan, Ignacio Nuñez
Executive Produced by: James Ordoñez
Origin: Spain
Language(s): English
External Links: Interview with Wes Bentley
Territories Available: Contact sales team
"Rousing and impressively staged!" -Variety
Written and directed by two-time Academy Award® nominee Roland Joffe ("The Mission," "The Killing Fields"), "There Be Dragons" is an epic action-adventure romance set during the turmoil of the Spanish Civil War. The story traces the lives of two young men, Josemaria Escriva (Charlie Cox, star of "Daredevil," "Stardust") and Manolo Torres (Wes Bentley, "The Hunger Games," "American Beauty"), child-hood friends who are separated by the political upheaval of pre-war Spain to find themselves on opposite sides as war erupts.
Josemaria becomes a priest who struggles to spread reconciliation. Manolo becomes a spy for the fascists. He becomes obsessed with a beautiful Hungarian revolutionary, Ildiko (Olga Kurylenko, "Oblivion," "Quantum of Solace"), who has joined the militia in pursuit of passion and purpose. But when Ildiko rejects him out of love for the courageous militia leader Oriol (Rodrigo Santoro, "300," "Westworld"), Manolo's jealousy leads him down a path of betrayal. As personal and national battles rage, the characters' lives collide and their deepest struggles are illuminated through the fateful choices they make. Each will struggle to find the power of forgiveness over the forces tearing their lives and friendship apart.
Also starring Charles Dance ("Game of Thrones"), Derek Jacobi ("Gladiator"), Golshifteh Farahani ("Exodus," "Pirates of the Carribean: Dead Men Tell No Tales"), Dougray Scott ("Taken 3," "Hitman"), Jordi Molla ("In the Heart of the Sea"), Lily Cole ("Snow White and The Huntsman") and Geraldine Chaplin ("Doctor Zhivago").
U.S. Release by 20th Century Fox/Samuel Goldywn Films