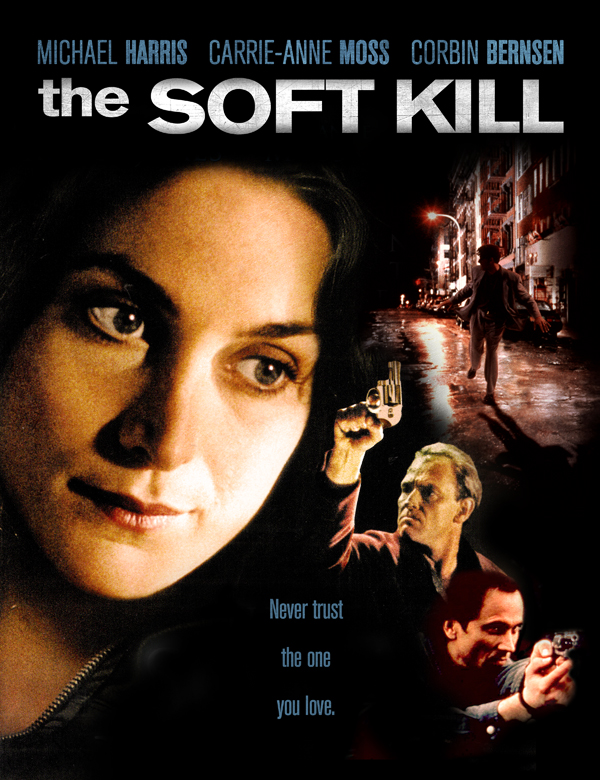 Title: The Soft Kill
Genre: Thriller, Crime
Year: 1995
Cast: Carrie Anne-Moss, Michael Harris, Brion James, Matt McCoy, with Corbin Bernsen
Directed by: Eli Cohen
Written by: Alex Kustanovich, Michele Noble
Produced by: Ehud Bleiberg, Yitzhak Ginsberg, Larry Rattner
Origin: USA
Language(s): English
External Links:
Territories Available: Contact sales team
Los Angeles private eye Jack Ramsey (Michael Harris, "Horseplayer") is being framed for murder. When his lover Kim, wife of ambitious politician Martin Lewis (Corbin Bernsen, "Kiss Kiss Bang Bang," "Major League"), is brutally strangled, the clues point in Jack's direction.
When Kim's sister Janet Tanner (Carrie-Anne Moss, "The Matrix," "Disturbia") hired Jack to find the killer, several new suspects begin to emerge: Manny Ortega, a drug dealer that Jack arrested and Martin prosecuted; Janet herself who may have killed Kim to get half of the family estate which she may have to share with Martin; and even Ben McCarthy (Brion James, "Blade Runner"), Jack's old police partner of seven years. Ben has never been one to hesitate in bending the rules and may have crossed the line in an effort to protect his old partner and friend.
As the noose tightens around Jack's neck, Ben's current police partner Vinnie (Matt McCoy, "The Hand That Rocks the Cradle") becomes ever more zealous to prove that Jack is the murderer. The evidence linking Jack to the crime is only circumstantial until now. Soon, however, two more bodies turn up in the case and Jack begins a frantic race with time and the law. He must prove his own innocence and find the real killer before he strikes again.
U.S. Theatrical Release by Lionsgate