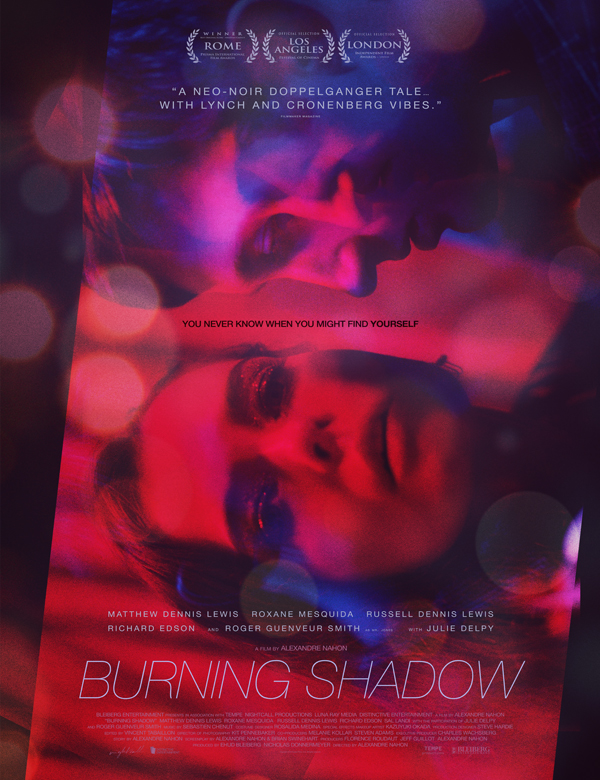 Title: Burning Shadow
Genre: Thriller, Noir
Year: 2019
Cast: Matthew Dennis Lewis, Roxane Mesquida, Russell Dennis Lewis, Roger Guenveur Smith, Richard Edson, Julie Delpy
Directed by: Alexandre Nahon
Written by: Alexandre Nahon & Brian Swinehart
Produced by: Ehud Bleiberg, Nicholas Donnermeyer, Florence Roudaut, Jeff Guillot
Executive Produced by: Charles Wachsberg
Origin: France, USA
Language(s): English
External Links:
Territories Available: Contact sales team
"Burning Shadow" is a twisted, supernatural thriller about obsession and the darkness of the human soul. Charlie (Matthew Dennis Lewis, Netflix's hit series "The Queen's Gambit," "Godless") is a young loner who works at a diner for a mirthless boss (Academy Award® nominee Julie Delpy, "Before Midnight"), struggling to even pay his rent. Seemingly his only friend is regular customer Mr. Jones (Roger Guenveur Smith, "American Gangster"), an affable businessman with ties to the mob. Jones also runs a nightclub, which Charlie visits and soon begins his obsession with one of the dancers, Summer (Roxane Mesquida, Gregg Araki's "Kaboom").
One evening, after an odd exchange with a bartender who says luck is coming his way, Charlie crosses paths with a blind homeless man who is his exact double, a doppelgänger. Perplexed and intrigued by the discovery, Charlie invites the man into his life. What follows is a haunting decent into desperation, fear, infatuation and greed, told through the lens of classic film noir, with a celestial twist.