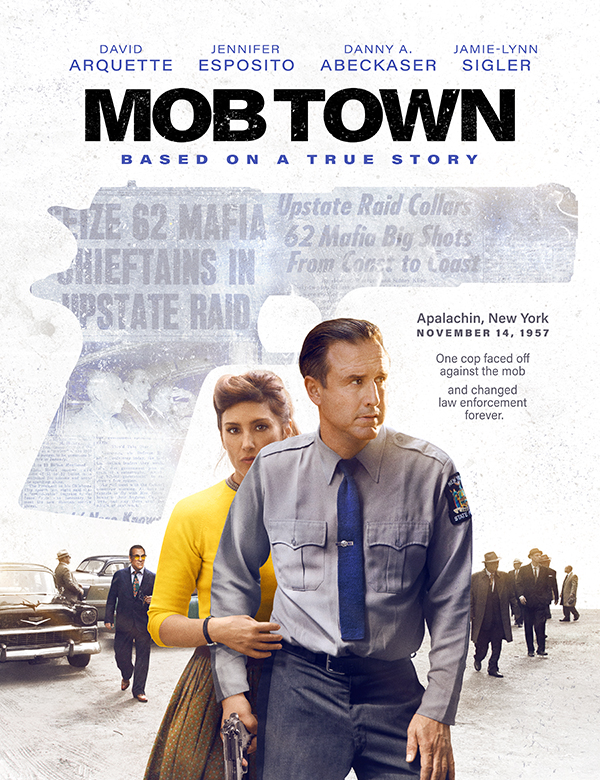 Title: Mob Town
Genre: Crime Thriller
Year: 2019
Cast: David Arquette, Jennifer Esposito, Jamie-Lynn Sigler, Danny A. Abeckaser, Robert Davi, P.J. Byrne
Directed by: Danny A. Abeckaser
Written by: Jon Carlo & Joe Gilford
Produced by: Danny A. Abeckaser, Vince P. Maggio
Origin: USA
Language(s): English
External Links:
Territories Available: Contact sales team
Based on the true story of the notorious 1957 "mob summit" in upstate New York. Spearheaded by Vito Genovese, more than 50 leaders of the organized crime syndicates from around the country converged on the sleepy town to discuss upcoming expansion plans. Their plans are foiled when local police trooper Ed Croswell discovers their activities and, consequently, exposes the mob to the American public. Croswell's actions shed light on the massive web of corruption and changed the face of law enforcement forever.
Starring David Arquette ("Scream," "Bone Tomahawk"), Jennifer Esposito (Oscar winner "Crash," TV's "NCIS"), Jamie-Lynn Sigler ("The Sopranos," "Entourage"), Danny A. Abeckaser ("The Wolf of Wall Street," Martin Scorsese's upcoming "The Irishman"), P.J. Byrne ("Big Little Lies," "Rampage") and Robert Davi ("Die Hard," "The Iceman," "The Expendables 3").
U.S. Release by Saban Films