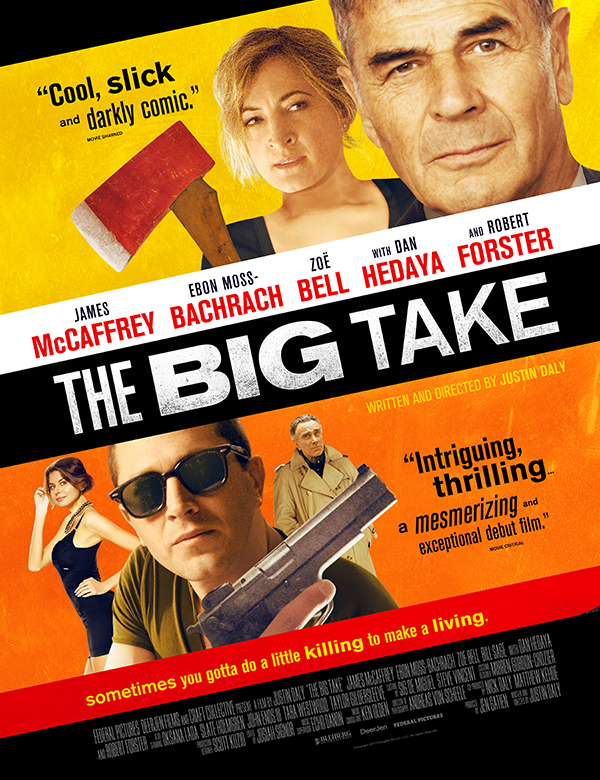 Title: The Big Take
Genre: Crime, Thriller, Comedy
Year: 2018
Cast: Ebon Moss-Bachrach, Zoë Bell, Robert Forster, Dan Hedaya, Oksana Lada, James McCaffrey, Bill Sage
Written and Directed by: Justin Daly
Produced by: Jen Gatien
Co-Produced by: Nick Daly, Matthew Kehoe
Origin: USA
Language(s): English
External Links:
Territories Available: Contact sales team
"Cool, slick and darkly comic." -Moviesharked
"Intriguing, thrilling… a mesmerizing and exceptional debut film from writer/director Justin Daly" -Movie Critical
A reclusive movie star who hires a private detective after he's anonymously blackmailed. Things turn violent when an aspiring writer is fingered for the crime in a dangerous case of mistaken identity.
A Los Angeles crime caper in the classic vein of "The Player" and "Get Shorty," "The Big Take" has a stellar ensemble cast featuring Academy Award nominee® Robert Forster ("Jackie Brown," "London Has Fallen"), Ebon Moss-Bachrach (HBO's "Girls," Netflix's "The Punisher"), Zoë Bell (Quentin Tarantino's "Death Proof," "The Hateful Eight"), and Dan Hedaya ("The Usual Suspects," "Blood Simple").
U.S. Release by Sony Pictures Entertainment